Leaders take part in the Asia-Pacific Economic Cooperation (APEC) Leaders' Meetings in Port Moresby, Papua New Guinea, November 17, 2018. /VCG Photo
Economic growth and cooperation in the Asia-Pacific region are often positively correlated. Rapid economic growth paves the way for cooperation, which in turn promotes economic growth. In the Asia-Pacific region, there are many regional or sub-regional groups/blocs of economic cooperation, resulting in a situation often dubbed as a "spaghetti bowl."
In this "bowl" the largest and also the most important organization is the Asia-Pacific Economic Cooperation (APEC). Since its birth in 1989, APEC has played a very influential role in pushing forward cooperation in the Asia-Pacific area.
This year's APEC leaders' meeting takes place at a time when the US is fighting a trade war with China and some other countries. Observers have been guessing whether or not the tension of the trade war would be diminished after the meeting, and that is why Chinese President Xi Jinping and US Vice President Mike Pence's statements have been very closely watched.
Chinese President Xi Jinping delivers a keynote speech titled Jointly Charting a Course Toward a Brighter Future while attending the Asia Pacific Economic Cooperation (APEC) CEO Summit in Port Moresby, Papua New Guinea, November 17, 2018. /Xinhua Photo
According to the Chinese Ministry of Foreign Affairs, through APEC meetings, China hopes to build an open economy for the Asia-Pacific region by means of protecting the rule-based trading system, promoting the establishment of a free trade zone, and improving trade facilitation. China also aims to build a community of shared future for Asia by deepening partnerships with countries in the region.
There is a high degree of openness and inclusiveness in these goals and this way of thinking is well manifested in President Xi's keynote speech delivered at the APEC CEO Summit on November 17.
He said that the world is undergoing major development, transformation and change, accompanied by many challenges, and that mankind must decide directions between cooperation and confrontation, or between openness and closing doors.
President Xi also announced that China will host the second Belt and Road Forum for International Cooperation in 2019 and will continue to hold the China International Import Expo annually. China welcomes international cooperation to increase global economic growth.
Regarding the ongoing trade war, President Xi said that global growth is under the shadow of protectionism and unilateralism, and we should take an inclusive approach and encourage interaction. "History has shown that confrontation, whether in the form of cold war or trade war, will produce no winners," said the Chinese leader.
Regrettably, at the same summit, US Vice President Mike Pence showed arrogance by saying that the US will not change its policies on China concerning trade issues unless China changes its ways. He said there would be "no letup" in President Donald Trump's policy of combating China. He even harshly criticized China's Belt Road Initiative (BRI).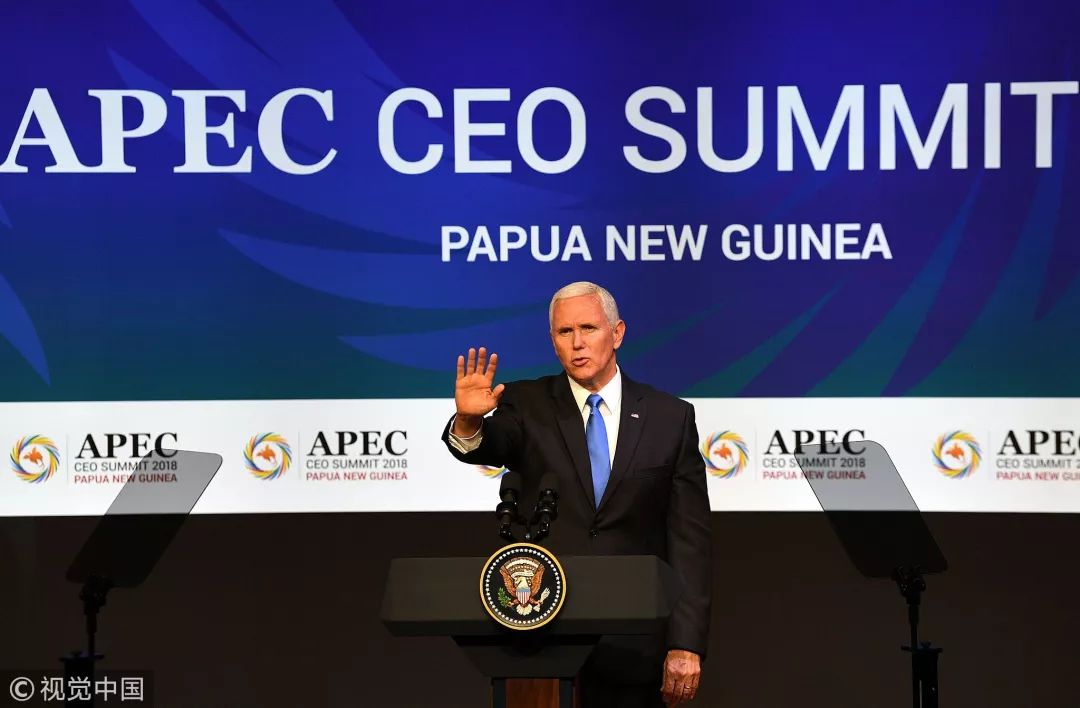 US Vice President Mike Pence delivers his keynote speech at the CEO Summit of the Asia-Pacific Economic Cooperation (APEC) Leaders' Meeting in Port Moresby on November 17, 2018. /VCG Photo
Needless to say, anyone with an impartial mindset can judge which country's leader points to the bright future of cooperation. As many international analysts say, while China is implementing the BRI that promotes connectivity among nations, the US is building a wall on its border with Mexico.
While China supports multilateralism through inclusiveness, the US promotes unilateralism through exclusiveness. While China proposes policies of openness and cooperation that benefit globalization, the US follows a selfish slogan of "America first" based on economic hegemony. While China wishes to settle down the trade dispute through dialogue, the US bullies others with its economic weapons.
From what Vice President Pence said, it seems that China should get well-prepared for the worst of its relations with the US before it gets better. Yet China is now different from what it was four decades ago. The trade war might hurt the Chinese economy; in the long run, however, China will continue to grow rapidly and make greater contributions to the world economy.
(출처: 중국 차하얼학회 2018.11.20)
저작권자 © 이코노미21 무단전재 및 재배포 금지